Polska
It's been quiet here on the blog over the past few weeks, but I promise it's for good reason. Two weeks ago we decided (rather spontaneously) to host a 19-year old hockey player from Poland for the 2013-2014 season. Being a billet family is something we've talked about in years' past but the timing never felt right. That is, until this year, when we heard a player had arrived from Poland as a late add to the team roster. We talked about how fun it would be to host someone from another country and to give him a "taste" (pardon the pun) of America. Without giving it a lot of thought we called the billet family coordinator and told her we might be interested. At that point we learned that another family was already considering taking him so we assumed it wasn't meant to be. Fast forward one week and we got a phone call from the coordinator telling us that the other housing arrangement fell through and that if we were still up for it we could be his new host family.
We received that call on a Thursday and she asked if we could be ready for him on Monday of the next week. Anyone who knows me well can probably imagine what the next 72 hours looked like. My first step was to call my parents to see if they could come up and help with preparations. They arrived the next day and we kicked it into high gear preparing a room in our house for him, rearranging our kitchen to make room to extend our table to seat five, and organizing pantry cupboards to make sure we had room for all the food it would take to feed a 19 year old athlete.
Here's a little peek at the room we pulled together over the weekend including the Polish Flag wall art my Dad made using salvaged wood along with two new nightstands he built from scratch. (It pays to have a handyman for a Dad!)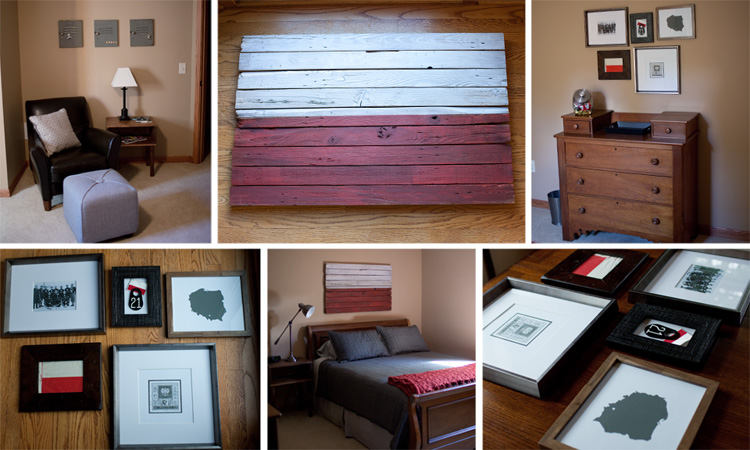 By Monday morning we were all beyond excited to welcome Filip into our home. The boys were a little awestruck at first but it didn't take long before they were showing him around the house and talking about all the fun things we could do while he is here.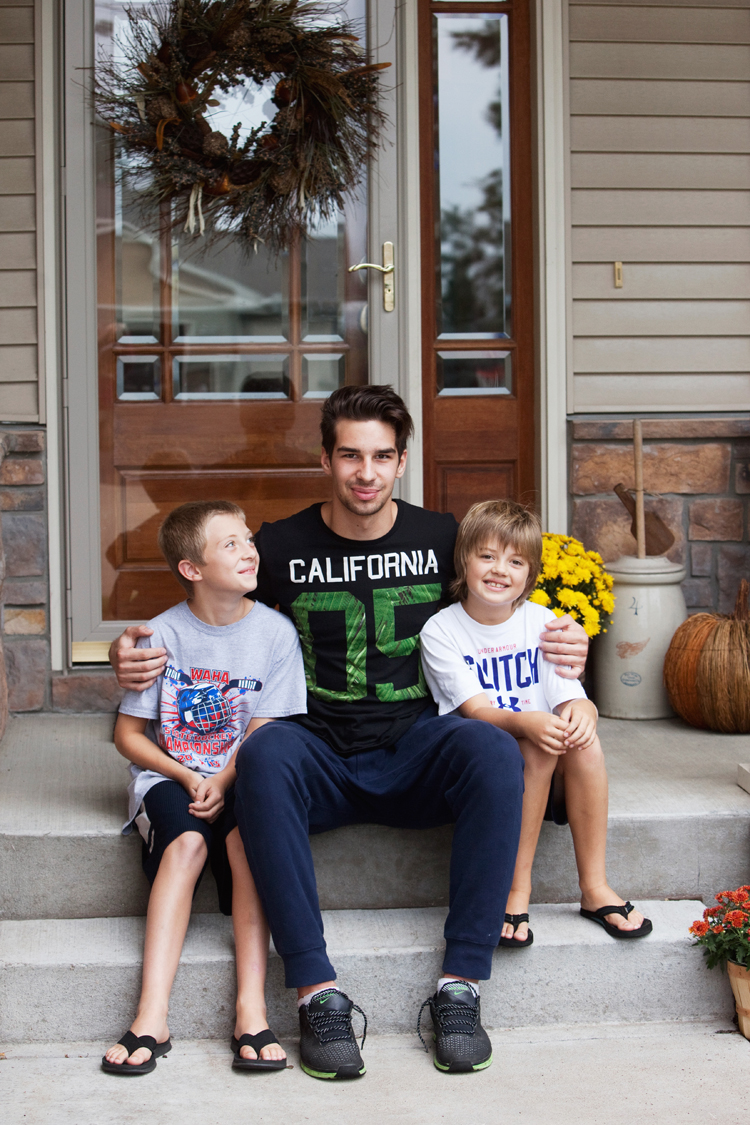 Since his arrival I can safely say that having Filip join our family was definitely meant to be. There is no question that he is the perfect fit for us! He's quiet, well-spoken, very polite, hard working, witty...the list goes on and on. We couldn't have asked for a better role model for the boys. Combine that with the fact that the kid LOVES to eat which is great because I LOVE to cook! And cook I do...feeding a 6'3" 19-year old athlete could be a sport in and of itself.
Before Filip arrived I think we were all anxious to teach him about life in America, but the fact of the matter is that we're learning a lot more from him. Hearing his about his life in Poland and dreams for the future is both fascinating and inspiring. It's definitely an honor to be his host family!
Today's lunch represents Filip's home country POLAND (a.k.a. Polska) and includes a peanut butter sandwich on Lavash bread with homemade fruit roll up and white American cheese accents, strawberries, cheese curds, tomatoes, hard boiled egg, and a Polish candy bar Filip brought for the boys to enjoy!