Giving Jar...
As we head into the holiday season I wanted to take a moment to share with you a project were doing with our kids again this year. My husband and I want very much for our children to value the gift of giving. In todays society it seems so easy to want for more. It also feels that people are willing to take far more than they are willing to give. We desire more than that for our kids, so last year we decided to replace our traditional advent calendar with a Giving Jar to help countdown the days until Christmas. The idea came to me as my oldest son and I were talking about ways in which we can help others. He mentioned a few tasks that I knew we could accomplish, so I rounded out the list to make 24 giving tasks. The tasks included things like holding the door open for someone, writing a thank you letter to a soldier, and delivering food to the local food shelf. I typed the tasks on white paper and tied them with a ribbon and placed them in our jar. Each morning the kids selected one scroll and they had until the end of the day to complete the task. At the end of the day we all shared our stories and reflected on tasks we completed as a family.
This was something the kids have talked about all year long and as soon as we started putting up our Christmas tree they started asking about the "Giving Jar". I was delighted that the kids not only remembered the jar, but both wanted to add a few new tasks to this year's jar. The jar has been sitting here for a few days and every morning the kids ask if today is the day we get to start the giving jar project. I'm very much looking forward to diving in with our first task tomorrow.
I did learn a few things last year that I thought I'd share for any of you that might be interested in doing something similar. First, to ensure we could complete each task I did some homework ahead of time. I started by calling local organizations that I thought could use donations to get specific requests. We also wanted to make sure the kids could be directly involved in most of the tasks rather than just dropping off or sending donations so I created a calendar of tasks that worked well with our schedules. Any tasks that required family participation were scheduled on the weekends or on days when we don't have after school activities. (Each task scroll is marked with a number so the kids are selecting tasks specifically planned for that day. I have a master calendar of tasks on my computer for planning sake.) We'll make one big shopping trip as a family to buy all the toys and supplies we'll need to complete our tasks at the beginning of the month so we have everything we need to complete the tasks throughout the month.
This month is going to be filled with some amazing opportunities for my family. Our hope is that our children learn that giving back is a bigger gift than anything that would ever fit under a tree.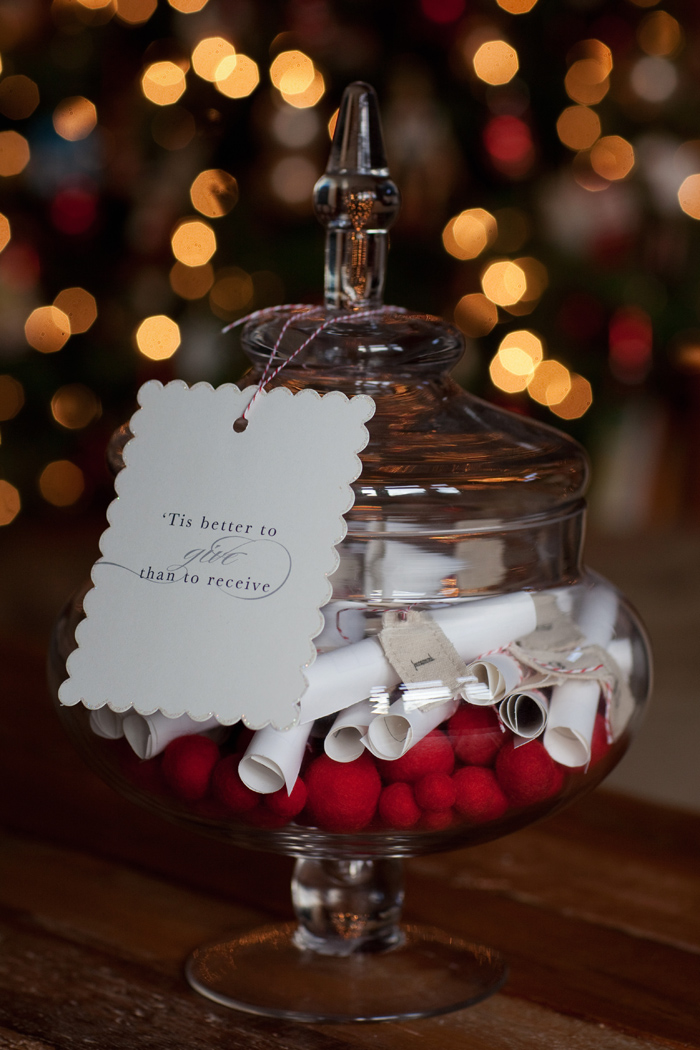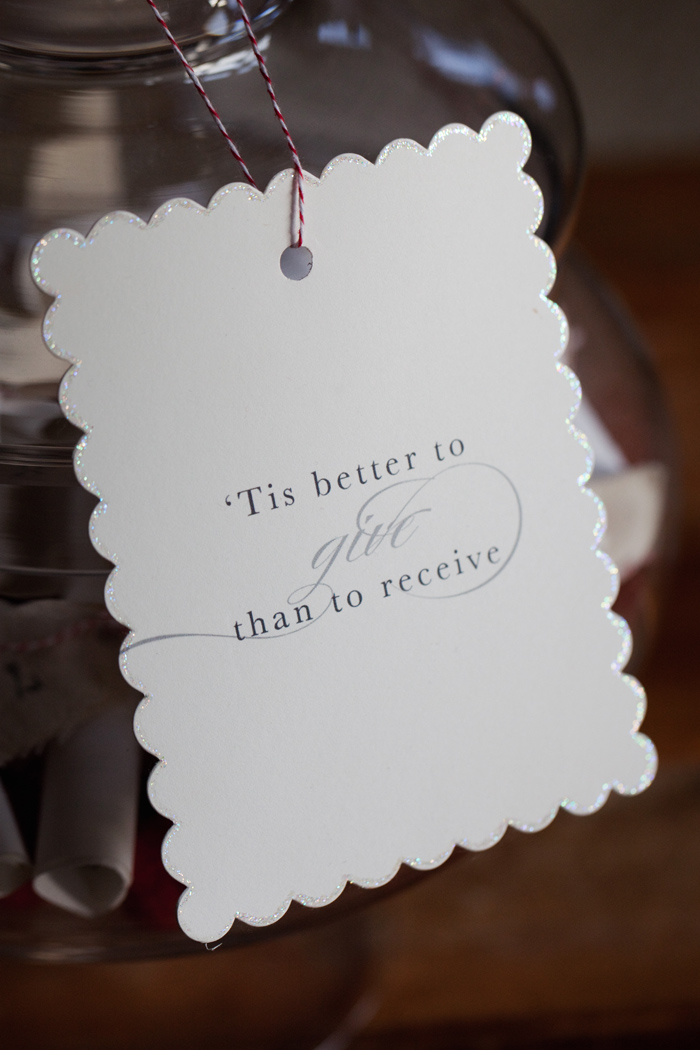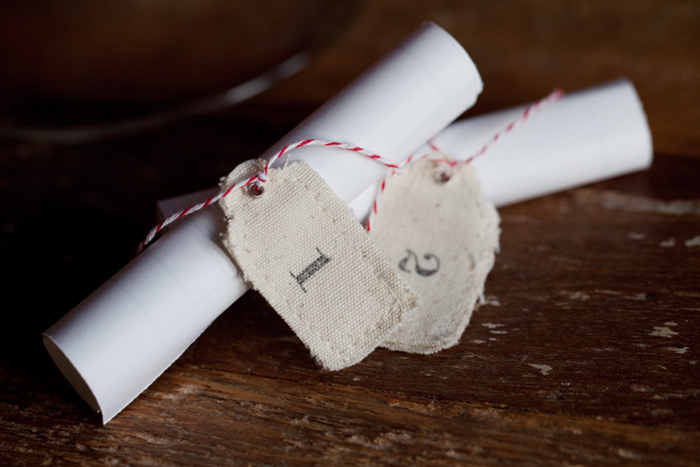 Below is a list of the tasks we'll be doing this year with our boys ages 8 and 6. I've also made a FREE PRINTABLE with all 24 tasks sized to print (4 tasks per 8.5 x 11 sheet) that just need to be cut, rolled up, tied with ribbon and placed in a jar for anyone who wants to do something similar. I did include a blank template as well if you'd like to come up with your own tasks. Click HERE to download the giving task printable.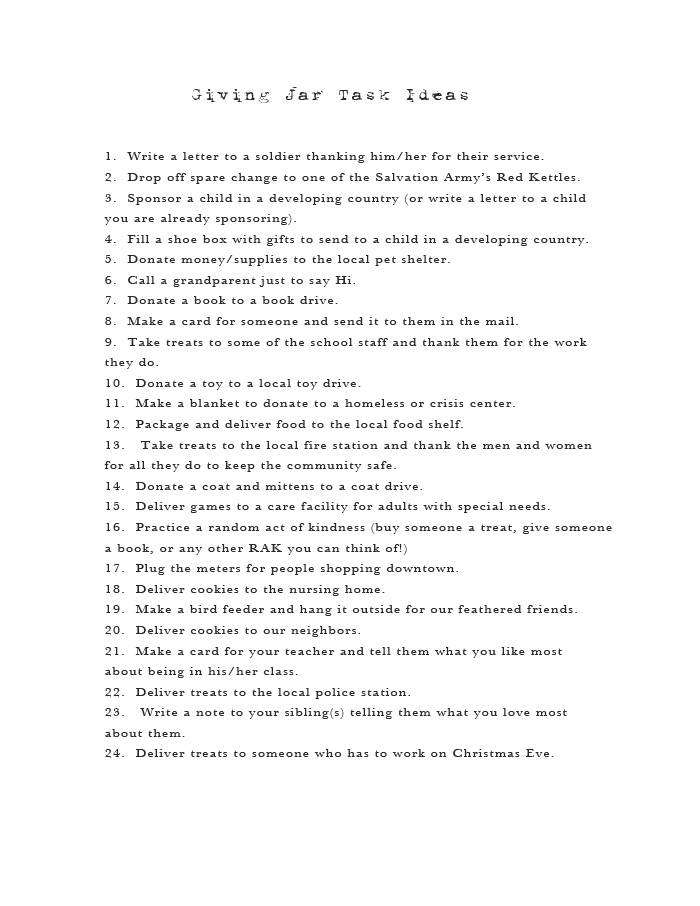 Here is a sample page from the free printable. Simply quarter the 8.5 x 11 sheet of paper using a paper cutter, roll each task and tie them with ribbon or string, number the tasks and place the tasks in a jar and you're all set.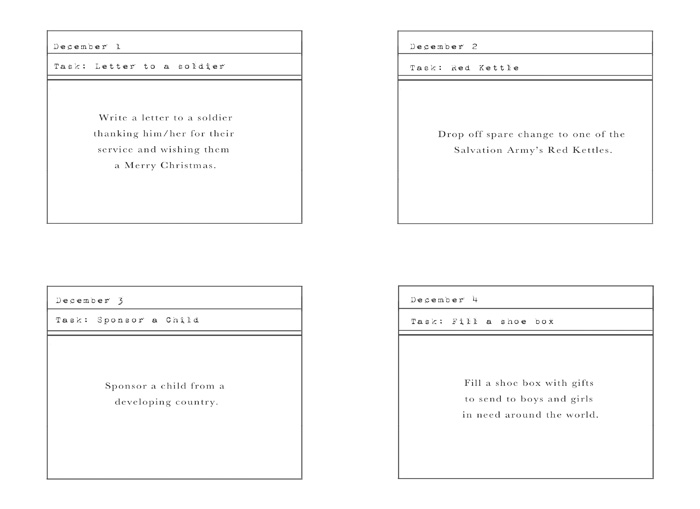 Today's lunch includes a peanut butter roll-up on Lavash bread, plums, salad with ranch dressing, lefse (a traditional Norwegian food) packed in a Planet Lunch Box