Gingerbread and Hot Chocolate
You may have noticed that I haven't been writing as much as I have in the past. Let me explain...as some of you know I work full-time as a photographer and graphic designer. Traditionally Fall is a busy time of year for me and I've learned to adapt my schedule accordingly. This year I had the busiest season in my studio's history and I found myself needing to pull back in certain areas of my life to accommodate the increase in my workload. Combine the hectic season with both boys' homework, school activities, hockey schedules, and other everyday life happenings and you'll understand that I was pretty much stretched thin. At times I found myself wanting to force time out of my day to photograph and write about some of the lunches I've made. However, I knew it not only would take time away from the kids, but would also add undo pressure onto an already overloaded schedule. At some point during the chaos I came across a quote by Anna Quindlen and it served as a good reminder that the blog could wait.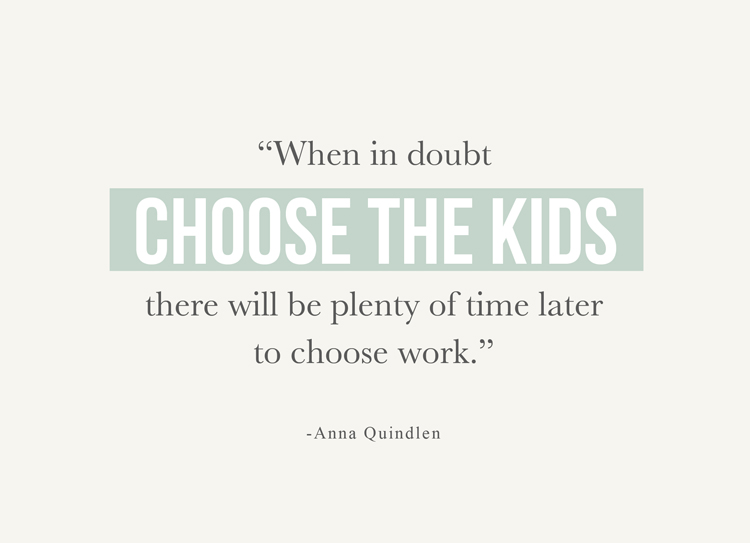 Now that my busy season is winding down, I'm very excited to get back to blogging. This is definitely something I enjoy doing and I love sharing healthy food options that have gone over well with my kids with other parents. So without further ado...today I thought I'd share what I made the boys for breakfast on this VERY cold morning here in Wisconsin (our forecasted high temp for the day is a whopping 10 degrees)! It seemed like a perfect day for a two-egg & cheese omelet with homemade mini gingerbread loaves and homemade hot chocolate (recipes below).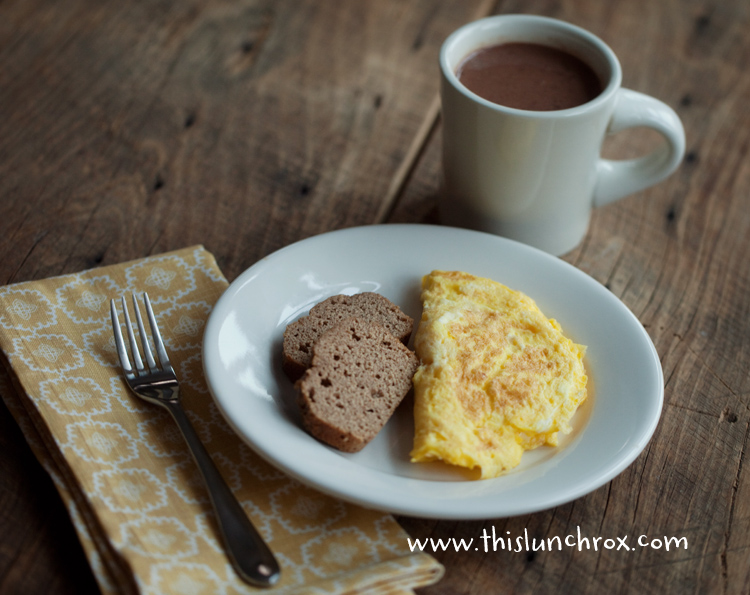 First up in the mini gingerbread loaves...this is a very quick and easy recipe and it smells oh, so yummy while baking! This was passed along to me from a friend of a friend so I don't know who to credit for the recipe.
Mini Gingerbread Loaves:
1/3 c. coconut flour
1/2 tsp baking powder
3 tsp cinnamon
1/4 tsp salt
1/4 tsp nutmeg
1 tsp ground ginger
Place all dry ingredients in a bowl and whisk to combine. Then add the following wet ingredients and blend with hand mixer:
4 eggs
2 tsp vanilla
1/4 c. xylitol or other natural sweetener
1/4 c. canned coconut milk (I use full fat)
Once combined well slowly add 2 TBS of melted coconut oil and continue mixing until blended. Let batter stand for 5 minutes before pouring into greased mini loaf pans. Bake at 350 for 30-35 minutes. Makes 2 mini loaves.
Homemade Hot Chocolate (recipe from Against All Grain)
2 cups unsweetened chocolate or vanilla almond milk
1 can coconut milk (I use full-fat)
1 vanilla bean, split the long way (I used 1/2 tsp vanilla extract)
3 ounces dark chocolate
2 tablespoons cocoa powder
1/4 cup xylitol or another natural sweetener
Directions
Place the almond milk, coconut milk and vanilla bean in a saucepan. Bring to a boil then reduce heat and simmer for 10 minutes.Strain then return the milk back to the pan.
Turn the heat to low and whisk in the chocolate, cocoa powder and honey. Heat for 5 minutes, whisking occasionally, until the chocolate is melted and the hot chocolate is thick and creamy.