Arizona Adventures...
So, we made it to Arizona and I am happy to report that so far we've had an amazing vacation. Our trip started in Sedona, Arizona where we hiked to an area with some spectacular views. About halfway through our hike I started reflecting on how far we've come as a family over the past year. A little over a year ago, I'm not sure anyone in my family could have made it through this particular hike. It's crazy to me how much of an impact food has not only on our physical abilities but also on our motivation, drive and enthusiasm. Prior to making changes in our diet, every physical task seemed daunting and somewhat overwhelming. I always loved the "idea" of hiking and rock climbing but figured it must not just be for us as nobody (including myself) was ever willing to commit to such an adventure.
Here we are one year later and the boys were chomping at the bit when we suggested we go out for a short hike on our first day of vacation. I wasn't sure what to expect from the boys, but when they suggested climbing to the top of a VERY tall canyon I seized the opportunity. The boys loved our hike so much that we decided to take them on a guided Jeep tour of Broken Arrow. The entire experience was such an eye-opener for me. It left me feeling so grateful that we made the changes we did last year.
Here are a few photos of the boys on our hiking and Jeep tour adventure: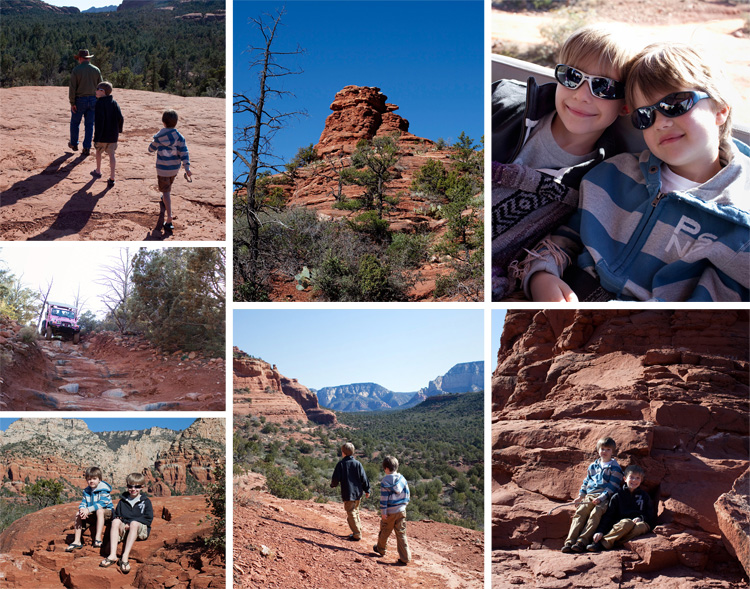 I packed these Chocolate-Peanut Butter bear shaped crackers as a fun treat on our hike! This is another snack that freezes well and you can pull them out and add to lunch boxes as needed.