Monday Mornings...
Today's "Monday Mornings" post features one of my boys' all-time favorite breakfast foods...WAFFLES! Oh, how my boys love waffles. Prior to our transition to healthier eating I stocked my freezer full of frozen waffles. I loved that on busy mornings I could pull them out, pop them in the toaster, lather them in a syrup and the boys gobbled them up in no time at all. In all honesty, one of the things I was afraid of as we transitioned away from our old eating habits is that I would have to give up convenience breakfasts such as waffles. This had always been my g0-to breakfast and without frozen waffles I thought surely I would go crazy. However, as I began to read about exactly what was in those waffles the easier it was to give them up! You can read a detailed account here, but long story short...they contain partially hydrogenated soybean oil and TBHQ to extend their shelf life. While many argue that in small doses these foods are safe to consume, I much prefer to look for healthier options for my family.
I found this recipeand discovered I could have the best of both worlds. I usually double or triple the recipe and freeze the waffles so we still have the convenience of pulling out frozen waffles in the morning, but these waffles are filled with protein and are void of the chemicals found in most store-bought varieties.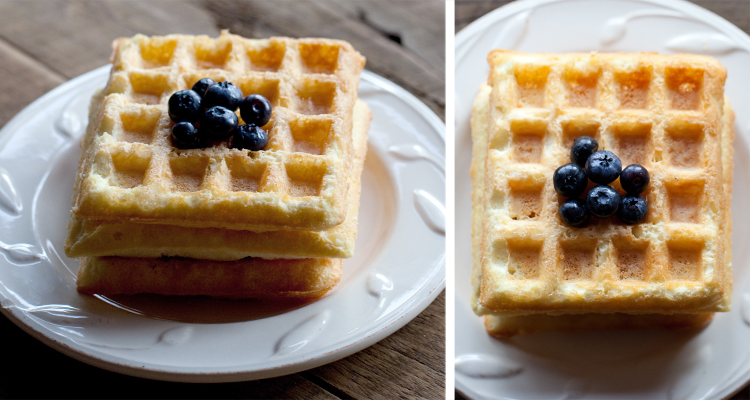 Below is the recipe for Maria's waffles (posted with permission)
1 cupalmond flour
1 cupwhey protein (Jay Robb)
1/2 tspCeltic sea salt
1 TBSaluminum free baking powder
1cup vanilla almond milk
2 eggs
4 TBS butter orcoconut oil,melted
Preheat waffle iorn to high. Combine the dry ingredients in a bowl. Combine the wet ingredients in another bowl. Slowly add the wet ingredients into the dry. Let sit for 5 minutes. Bake according to your waffle iron directions (I spray my waffle iron with THIS coconut oil spray). Enjoy! Makes 5 servings.