Merry Christmas
Here we are just a few days away from Christmas and the boys couldn't be more excited. Today is their last day of school before break which means they are one day closer to spending a fun filled week with their cousins. I'm just as excited to spend some quality time with my boys over the next few days before the Christmas festivities begin. Usually I spend the few days leading up to Christmas running around like a chicken with my head cut off trying to wrap up all the loose ends. After reading Shauna Niequist's post yesterday I'm inspired to abandon my "to-do" list after today. "Family time" officially begins tonight and I plan to enjoy every minute of it as we watch movies, play games, read, go look at Christmas lights or whatever else we might decide to do as a family. As part of our family time we'll finish out the last few remaining tasks of our Giving Jar Project which has easily become our favorite family tradition. The boys have loved participating in this project and they've gained more from completing the tasks than we ever imagined. I've said it before, but I'll say it again...there truly is no greater gift than watching your child bring joy to others through giving. This has been an incredible experience for all of us and we hope to continue this tradition for many years to come.
Below is a little video of some of the tasks we completed this holiday season.

Today's "gift of giving lunch" includes: triple decker nitrite free pepperoni and cheese sandwich (I used white American cheese for the "ribbon"), broccoli and cauliflower, strawberries, peanut butter/chocolate chip mini muffinspacked in the Planet Lunch Box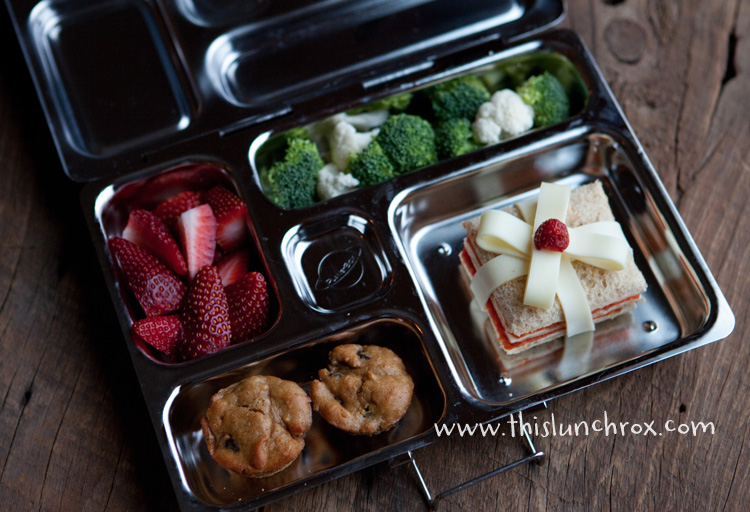 Merry Christmas and Happy Holidays from my family to yours!