Nick Schultz
Yesterday after school we had to break the news to our son that his favorite NHL player, Nick Schultz, was traded from the Minnesota Wild to the Edmonton Oilers. Anyone who knows my son knows just how much the world of hockey means to him. Not only does he love to play hockey, he loves everything about the game of hockey. Just to give you an idea...my son usually falls asleep reading hockey stat books while listening to a hockey game on the radio. Over the years he has picked a few players that he follows pretty closely...one of whom is Nick Schultz. He likes to check their stats, listen to their post-game interviews, and watches for them in the NHL highlight reels. I think my son was drawn to him at first because they share the same last name, but as my son grew to understand the game of hockey he saw that Nick was a very skilled and talented player. As a parent I couldn't be more thrilled to have my son look up to someone like Nick Schultz. Not only has he been a solid defensemen for the Minnesota Wild, but he has been a leader off-ice as well. Nick has led the team in the annual initiative known as Movember, a charity raising funds for awareness for cancers affecting men. He has certainly been a great role model for our boys and we couldn't be more appreciative for his hard work both on and off the ice.
We told our son as soon as he got off the bus yesterday to avoid him hearing it on the radio. I fully expected tears, but instead he proclaimed that he could still cheer for Nick Schultz and the Oilers (as long as the Oilers aren't playing the Wild). It wasn't until he went to bed last night that the tears started. He realized at that point that he would never again hear Nick's name on the radio broadcasts or see him take the ice one more time as a Minnesota Wild player. The tears were hitting his pillow pretty hard last night, but he seemed somewhat relieved when we told him that we were considering a trip to Edmonton to watch Nick take the ice as an Oiler. So even though Nick Schultz is now an Edmonton Oiler, he will always have a fan in my son!
I posted this lunch before, but I thought it was worth posting again in honor of Nick Schultz and his contribution to the Minnesota Wild organization...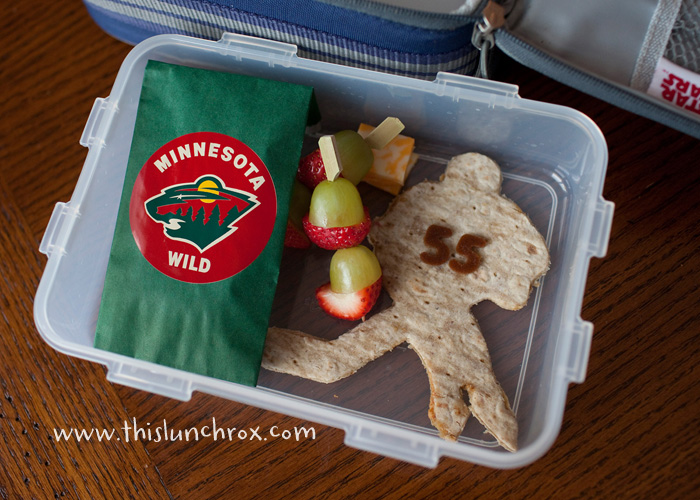 And a very special thank you to Nick for signing my son's jersey...this could quite possibly be the best birthday gift of all-time and might even earn me a "mom of the year award" from my son!!! I can't wait to see his reaction when he opens this!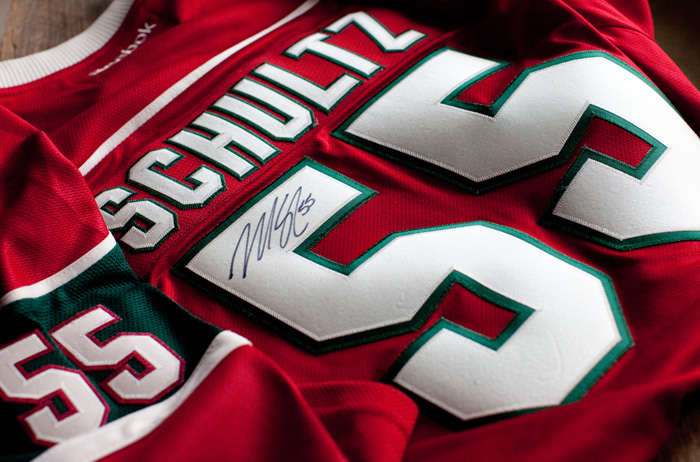 In a funny twist...Nick Schultz was traded for Tom Gilbert of the Edmonton Oilers. My son had the opportunity to skate with Tom last summer at the Davis Drewiske hockey charity event. What are the odds of that? Something tells me it won't be long before I start hearing Tom Gilbert's name around our house!