Cereal
Something my kids were really missing after making the transition to a healthier lifestyle was cereal. I've tried with all my might to find an alternative, but I've discovered that looking for a cereal not packed with sugar, genetically modified soy, wheat, and other fillers that actually tastes good is next to impossible. When Maria Emmerich, author of "Secrets to a Healthy Metabolism"(the book that started it all for me), posted a recipe for Peanut Butter CerealI decided maybe it was time to make my own. I'll admit I was a little skeptical and was fairly certain my kids would turn their noses up at it but I made it anyway. Boy, was I wrong!!! Not only did my kids eat it, but they LOVED it. My youngest son, definitely the pickier of my two kids, gobbled down his first bowl and begged for more. I've since made two batches and I'm finding that this not only makes for a quick and easy breakfast option, but it's perfect as an after school snack or a little filler for my boys who usually come home from hockey games H-U-N-G-R-Y!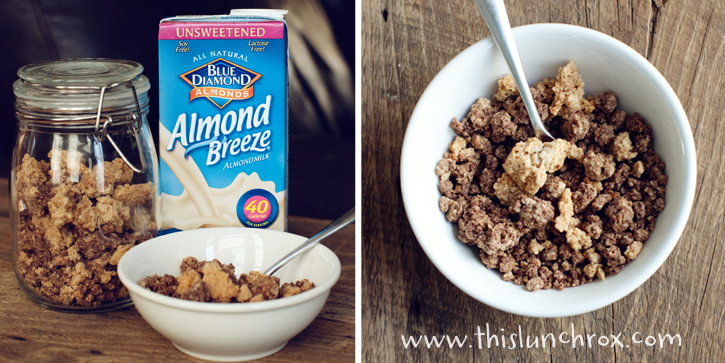 Chocolate Peanut Butter Cereal (posted with permission from Maria's Nutritious and Delicious blog)
2/3 cup erythritol (or Truvia)
1 tsp stevia glycerite (omit if using Truvia)
1 cuppeanut flour
1 cupJAY ROBB chocolate whey protein(or egg white protein)
1/2 cup butter or coconut oil, melted
2 TBS water (or 2 more TBS butter/oil for a "crunchier" cereal)
2 TBS unsweetened cocoa powder
OPTIONAL: 1 tsppure chocolate extract
Preheat oven to 300 degrees F (170 degrees C). In a large bowl, combine erythritol and stevia glycerite, peanut flour, whey, and extract in a small bowl. Stir in butter and water with fork or pastry blender until mixture resembles coarse crumbs. Divide the dough in half and place half of the peanut butter dough on a cookie sheet with defined edges. Keep the other half in the bowl and add the cocoa powder; stir to combine well.
Place the cocoa cereal dough on separate cookie sheet with defined edges or the butter may leak off. Bake for 12-20 minutes or until golden brown. Remove from the oven and gently stir while still hot. Let cool in the cookie tin (it will crisp up A LOT). Break pieces apart and enjoy with unsweetened almond milk. Makes 8 servings.