1st Day Traditions
Well...summer break is officially over! The kids headed back to school today after an action-packed summer. As much as we love summer and all the freedom that comes with it the boys get antsy to get back in the classroom with their friends and I always welcome having some structure and routine in our days during the school year. Over the past few years we've established a few traditions that add to the excitement of the 1st day of school.
First of all, every year we take the boys out to pick out new school shoes. These are shoes that are specifically for school which means they can't wear them until school starts. My boys don't care much for shopping unless, of course, it's for shoes...they LOVE picking out shoes. Every time we go to the store they put on the shoes and test them out by running as fast as their feet will carry them across the sales floor. When we get home we tuck them away and don't pull them out until the night before the first day of school and usually the boys put them on one more time just to make sure they can still run as fast as they could when they picked them out.

Another back-to-school tradition for us is to surprise each of the boys with a book we think they'll love and sneak it onto their pillows before the go to bed. This is always a fun treat for the kids and it's a fun way for us to kick off our bedtime reading routine.
And lastly, I like to make up a batch of brownies for the boys to enjoy as an after school snack when they get home on the first day. I got this idea from a dear friend of mine who is a chapter ahead of me in parenting. She has one boy in college and another in high school. This is something she has done for her boys over the years and still to this day they look forward to coming home to mom's brownies after their first day back to school. This morning as my boys were getting ready for school my oldest son excitedly reminded me to make brownies today which tells me this is one tradition they'll remember for years to come.
The brownies below are a gluten-free brownie recipe from Maria Emmerich's new cookbook The Art of Eating Healthy: Kids.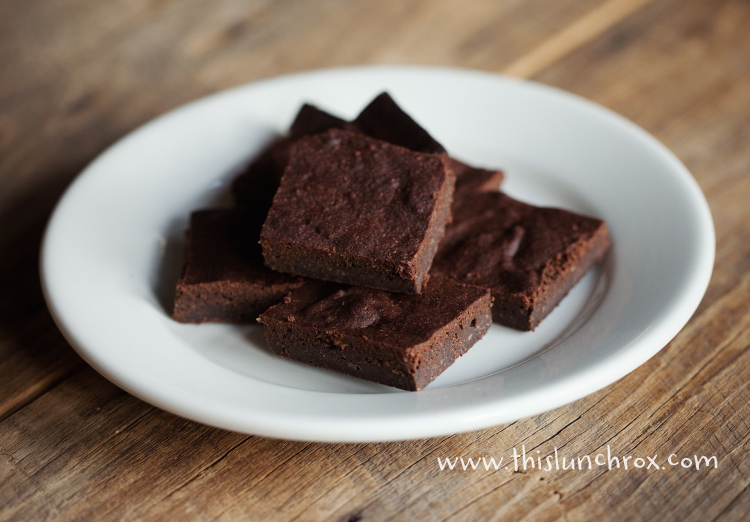 Today's lunch celebrates their return to school and some of our "1st day traditions". The lunch includes: shoe shaped sandwich, cheese curds, raspberries and blueberries, jicama strips, & a peanut butter cookie (you could substitute sunbutter if nut allergies are a concern) all packed in a Planet Lunch Box