Homemade...
A few weeks ago we took the boys on a spontaneous trip up to Duluth, Minnesota to enjoy the last few days of summer break. We've been up there several times but the boys never tire of it as there is so much to do! Most of our time was spent rollerblading, throwing rocks in the lake, and taking a few short trips out to various parks to hike. On one of our outings we decided to stop at Split Rock Lighthouse where the boys saw a restored lighthouse built in 1910. After viewing the lighthouse we toured the home of the keeper and got a glimpse at what life was like for the families who lived there. When we walked into the home we found the park service was offering a demonstration with women dressed in period clothes doing common activities for the time (sewing, baking, etc...). In the kitchen, the woman described how almost all the food consumed by the family was made right in that room. She was making bread and talked about the long process of letting it rise and then baking it in the wood fire oven. Then she showed us the pantry where they stored most of the baking supplies.
As I sat and watched her presentation I was reminded of just how much we, as a society, have become reliant on convenience food. I'm amazed at how few (and REAL) ingredients went into the food made 100 years ago because much of it was made in the home. These days manufacturers have found chemicals and other products to add to preserve and give food a longer shelf life for convenience sake. Transitioning to a healthier lifestyle for us meant that I had to take on more work in the kitchen making a lot of our food from scratch. I spend far more time now baking/cooking than I ever have before and because I work full-time out of the home it's certainly not an easy task. Believe me when I say that there are a lot of times when I wish I could just go back to buying prepared food in a box or can...simply to save myself some time. Seeing this presentation was a good motivator though! Hearing of all the tasks these women back in the 1900's had to do to keep their homes running yet they somehow still found time to cook 3 meals a day was inspiring. Somehow my Sunday "bake-a-thons" where I make 4-5 baked goods (muffins, cookies, donuts, etc...) to get us through the week pale in comparison to what these women did on a daily basis. Here's hoping I can remember this when things get hectic and I want to break down and buy convenience food!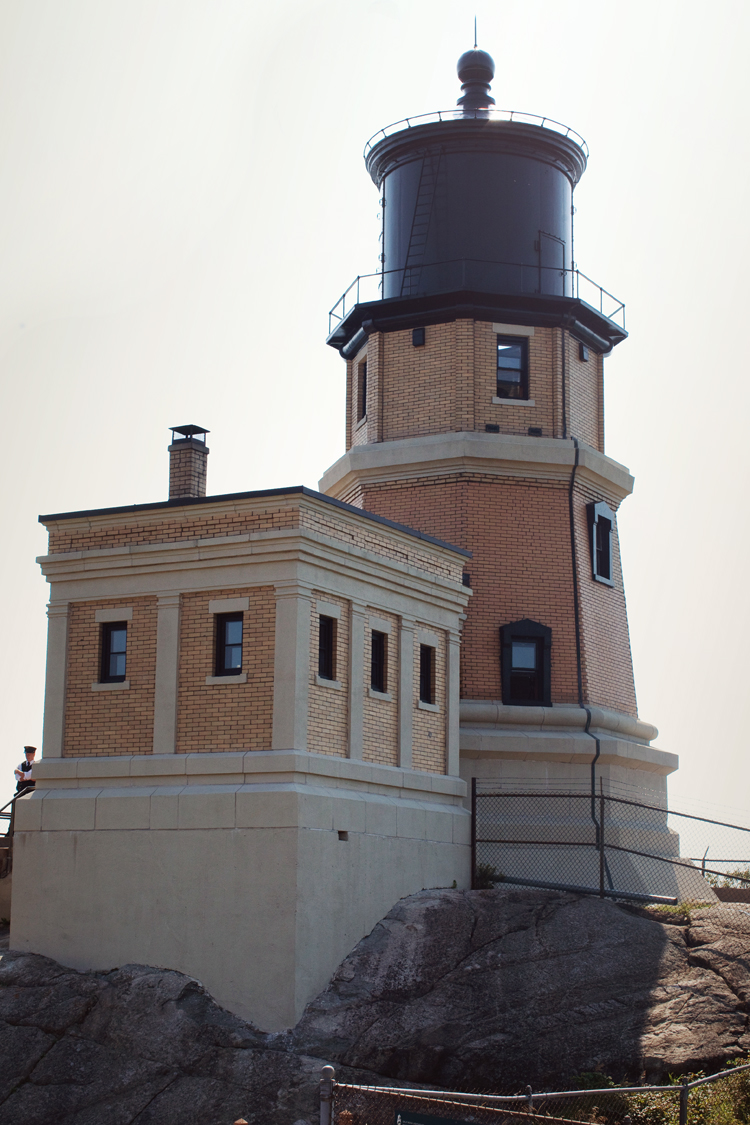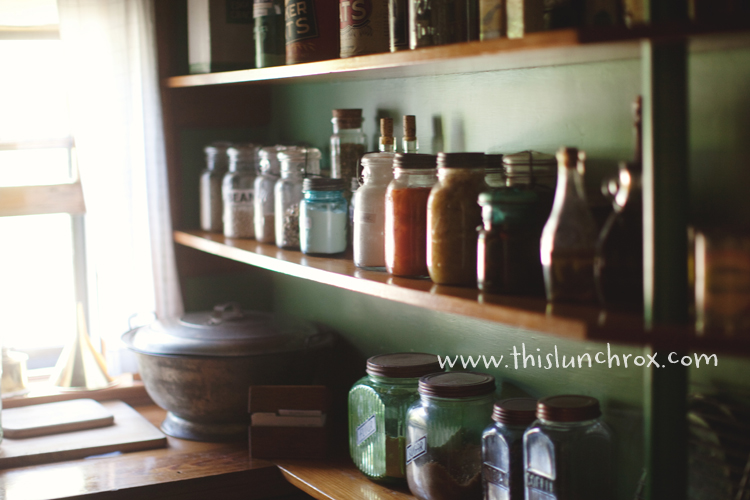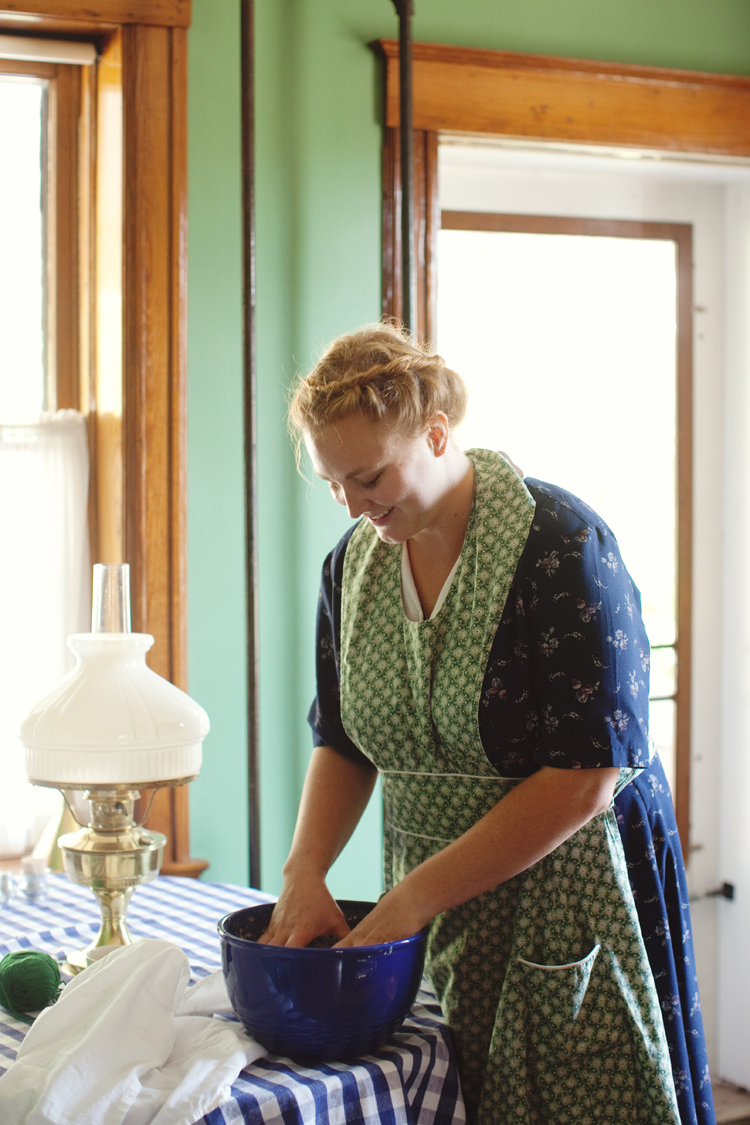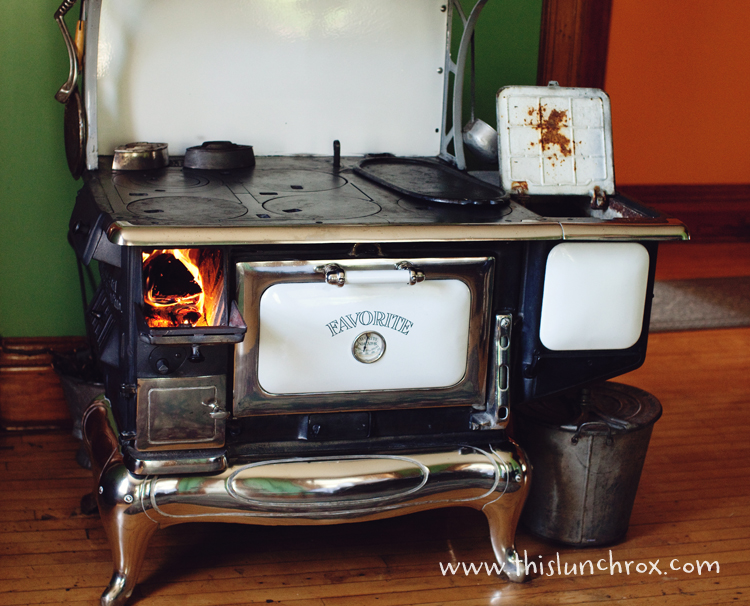 One of my baked goods from this Sunday's "bake-a-thon" was glazed pumpkin bread made in mini loaf pans so the slices would fit in a lunch box. Yet another wonderful recipe from Maria Emmerich of Maria Mind Body Health! If you don't have her books or follow her blog or on Facebook you should...a majority of the recipes I use are from her!
"HEALTHIFIED" GLAZED PUMPKIN BREAD:
3 cups blanched almond flour
1/2 tsp Celtic sea salt
1 tsp baking soda
2 tsp ground cinnamon
1 tsp ground nutmeg
1 tsp ground ginger
1/4 tsp ground cloves
1/4 cup butter or Coconut Oil
1 cup Swerve (OR 1/3 cup Erythritol and tsp stevia glycerite)
6 large eggs
2 cups fresh OR canned pumpkin
GLAZE:
1 cup coconut oil
1/2 cup confectioner Swerve (or powdered erythritol)Preheat oven to 350 degrees F. In a mixing bowl combinealmond flour, baking soda, salt, and spices. Mix butter, sweetener, eggs and pumpkin until smooth. Stir wet ingredients into dry. Grease and pour into a bread pan. Bake 60-70 minutes, or until a toothpick inserted in the middle comes out clean. Top with glaze! Makes 12 servings.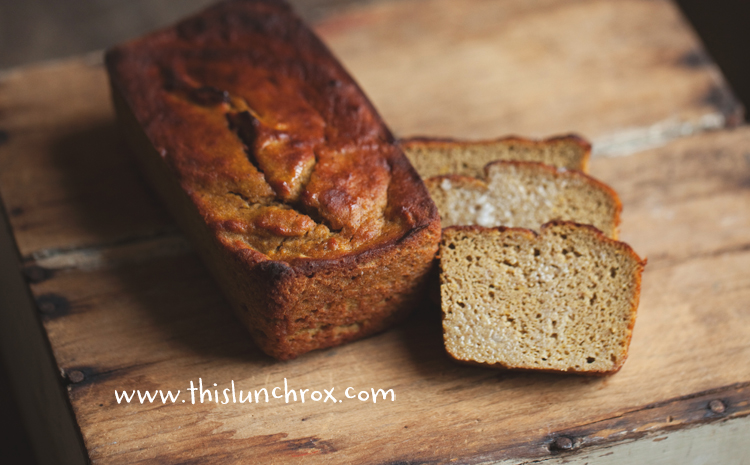 Today's lunch includes: turkey, cheese kabobs, celery and peanut butter (if nut allergies are a concern you could sub sunbutter), raspberries/blueberries, glazed pumpkin bread, almonds