Weekend Prep
One question I'm asked often is how I find time to make lunches with my work schedule. Let me start by saying that my kids don't get a fancy lunch every day. In fact, more often than not their lunches are quick and easy taking less than 5 minutes to throw together. The secret for me is prepping over the weekend. Since transitioning to a healthier lifestyle nearly three years ago this is something that has become essential for my family. Each weekend I stock up on fresh fruits and veggies and rather than just throwing them in our refrigerator drawers I take some time and cut it all up and store them in air tight containers. This saves me a lot of time when I need to throw together lunches and/or quick after school snacks.
In addition to cutting up fruits and veggies I typically make three baked goods over the weekend. The baked goods usually include one batch of cookies, a batch of muffins, and a sweet bread/bar. (Over the years I've learned to make mini muffins and smaller sized cookies so they fit in the lunch boxes.) If I know we have a busy week with evening activities I typically make double batches of everything so we can use them as sides for dinner.
Here's a quick peek at our fridge after this weekend's prep. Along with the fruits, veggies, and baked goods you'll also notice some other staples I like to keep stocked in our fridge...hard boiled eggs, string cheese, and unsweetened almond milk for smoothies.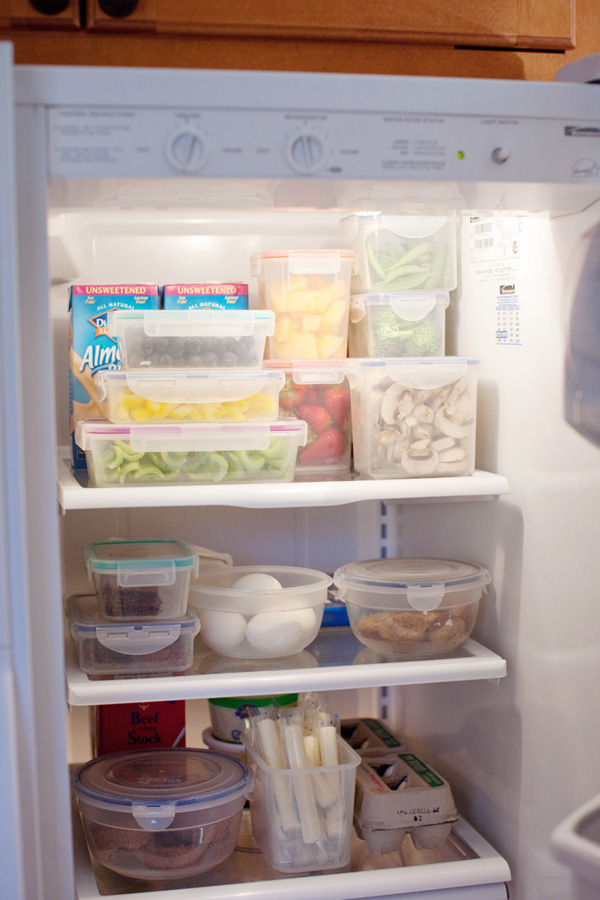 Today's quick-and-easy lunch is made up entirely of things I made up over the weekend. Almond flour waffles toasted to use as "bread" for a peanut butter sandwich, yellow peppers, hard boiled egg, pumpkin mini muffins, strawberries/cantaloupe, cheese curds all packed in aPlanet Lunch Box