Sushi sandwich...
My husband and I love sushi and the boys are always so intrigued by this delicious Japanese cuisine. My oldest son tried a simple California roll the other day and loved it, but he wasn't quite ready to try the more exotic rolls in the spread. He's off to a good start at least. The one thing we did discover is that our boys love eatingtrying to eat with chopsticks. I found these great "trainer chopsticks" and knew we had to have them!
Today's sushi inspired lunch includes: sushi sandwich with tuna, carrots & cucumbers, plum slices, snap peas, homemade fruit roll-up.

To make the sushi sandwich I cut the crust from a slice of bread. In the middle of the bread I spread out rows of tuna with carrots and cucumbers in the middle, then rolled the bread using a piece of saran wrap (I did use a bit of mayo on the edge of the bread to keep the edge "glued" down), then sliced the roll into sushi-sized pieces.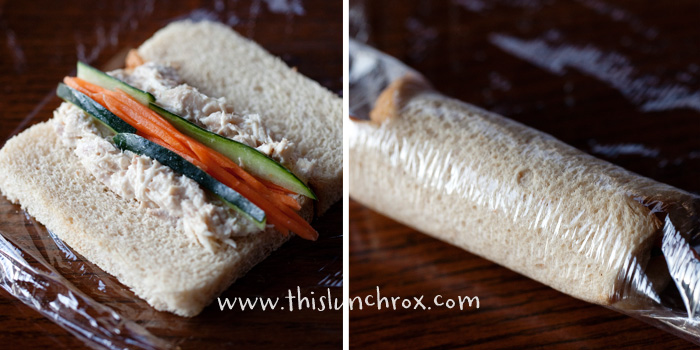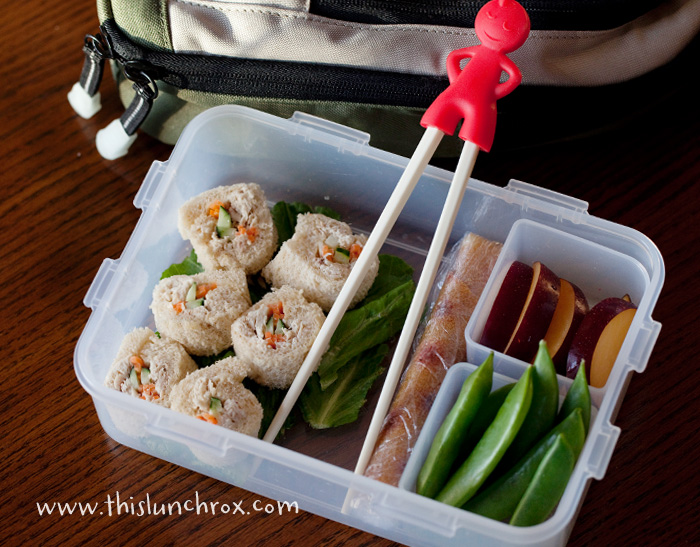 The little guy pops off the top of the chopsticks so they fit perfectly into the box.