Space...
My husband and I have had the pleasure of working with a group of six 2nd graders on an "inquiry circle" project. The project was designed to expose children to the process of researching and presenting information on any given topic. Three days a week over the past five weeks we've worked with the kids on developing their research skills, selecting a topic, sourcing information on their topic and pulling together a presentation. The kids decided to do focus on space...specifically the planets & stars in our galaxy. It's been such a treat to watch the kids work diligently on the project and I've been so impressed by their independence and ability to focus on the given tasks. The past week has been especially fun as the kids FINALLY got to work on the craft project I've been talking about since they decided on a topic...paper mache planets! Trust me when I say that it was a VERY messy project, but it was worth every bit of the mess we made. The kids had a blast and I was very impressed with the facts they were rattling off about their planets and stars as they worked on the craft.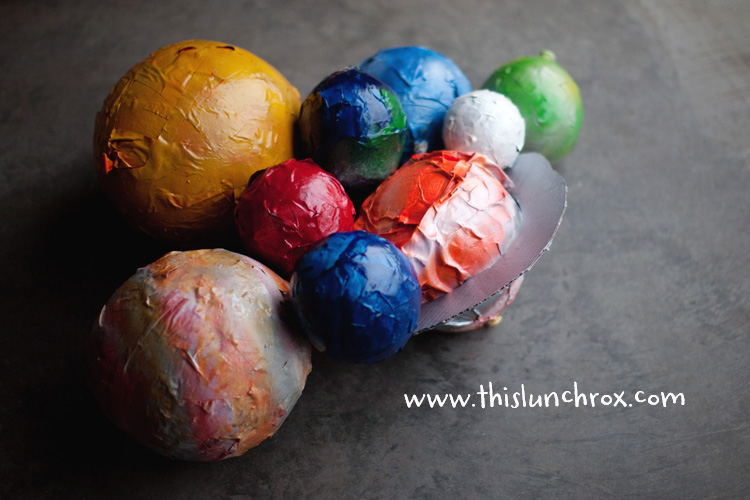 Today is the big day for the kids to share their presentation with the entire 2nd grade class and they are oh, so excited! Our son is one of the six involved in this group and he was up bright and early practicing his part. In honor of the presentation I decided to make a space-themed lunch including: grilled cheese, tomatoes, cucumbers, blueberries, nectarine, almond flour cookie, granola bites (see recipe below), pretzels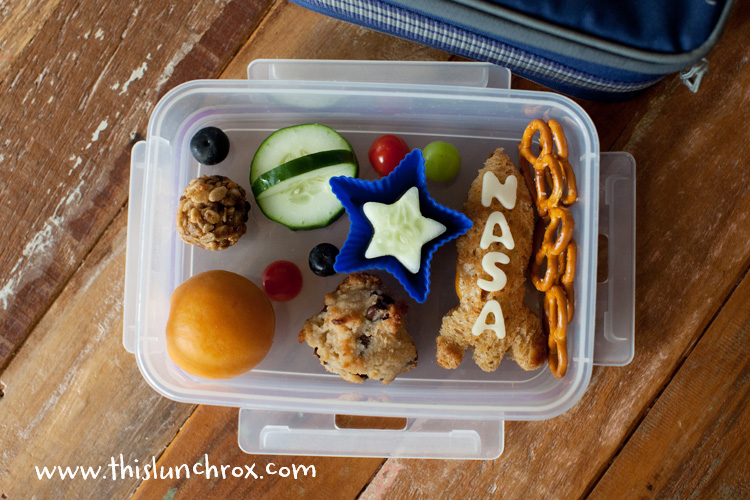 I've had quite a few people ask what I do with the scraps of food leftover from my lunch box. I do my best to use as much as I can by making a lunch for my youngest son who is still at home with me. Any other scraps (which isn't much) go into our compost pile. Here's the lunch I made for my little man using the excess fro my older son's lunch today: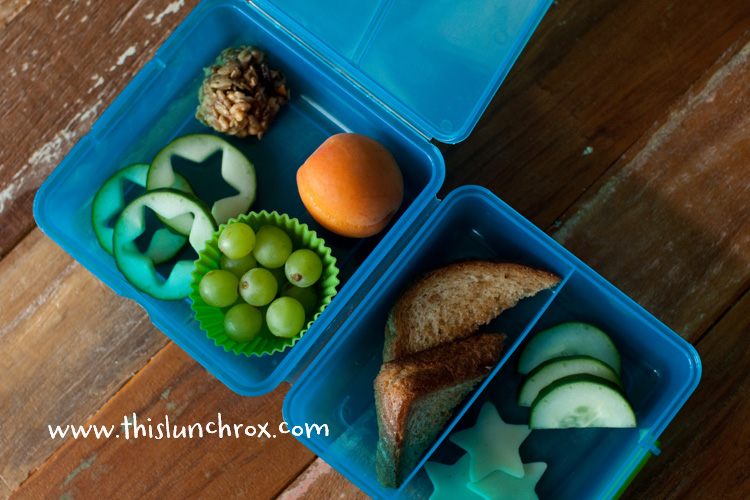 Granola Bite Recipe (adapted from one I found on Weelicious):
1/2 Cup Natural Peanut Butter
1/2 Cup Sugar Free Honey
1 Cup Brown Rice Crispy Cereal (Kellogg's is launching a Brown Rice Cereal in June 2011, but you can find other brown rice crispy options in the whole foods section of your grocery store)
1 1/2 Granola (I make my own by combining 2/3 c. sugar-free honey, 1 TBS molasses, 1/3 c. coconut oil, 5 c. old-fashioned oats, 1 c. ground flax seeds, 1 tsp cinnamon....heat honey and coconut oil on low heat until melted then mix with all other ingredients and bake at 375 for 15 min stirring a few times throughout the process. You will have enough to make the granola bites, plus have some left over for cereal, etc...)
To make the granola bites:
1. Place the peanut butter and honey in a small saucepan over low to medium heat and warm for several minutes or until it becomes combined and smooth.
2. Place the remaining ingredients in a bowl and stir.
3. Pour the warm peanut butter mixture into the bowl with the granola mixture and stir to combine.
4. Roll into 1 inch balls (I used a mini ice cream scooper to scoop out each portion).
5. Serve or store in an air tight container (I store mine in the freezer and pull them out as needed).