Summer Reading Stars
Every year I try to come up with a reading program for the kids to keep them motivated to read through the summer months. It's been a struggle to come up with something fun, creative, and engaging...then came along Pinterest! Oh, how I love that place! A few weeks ago I stumbled across a pin featuring a summer reading program complete with FREE printables HERE! All I had to do was sign up on the blog and within minutes I was given access to a free program that appeared to be a perfect fit for my kids. The "Summer Reading Star" set encourages kids to read for a certain number of minutes in a variety of ways (read on a beach blanket, read in the car, read under a tree, etc...). There is a bingo-style game board included and once the kids cross off an entire row they receive a coupon. If/When they complete the entire card they receive a Golden Ticket!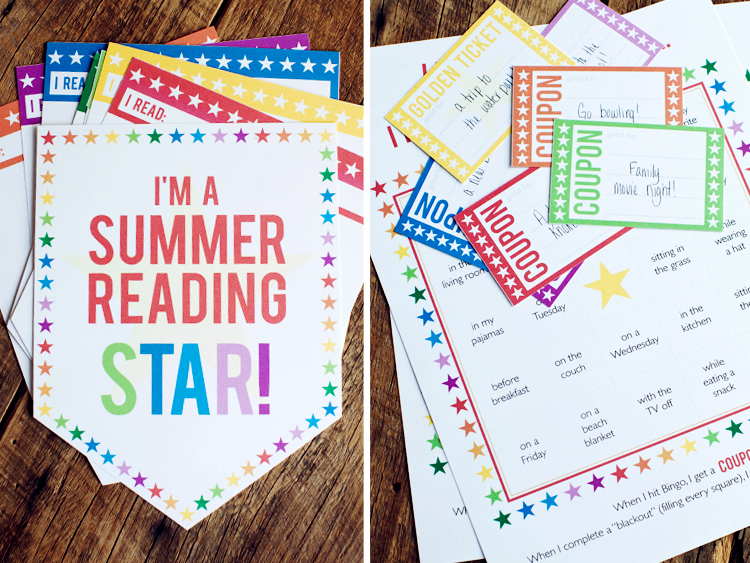 Also included in the kit are pennants kids can use to write a summary of each book they read throughout the summer...a great way to build reading comprehension.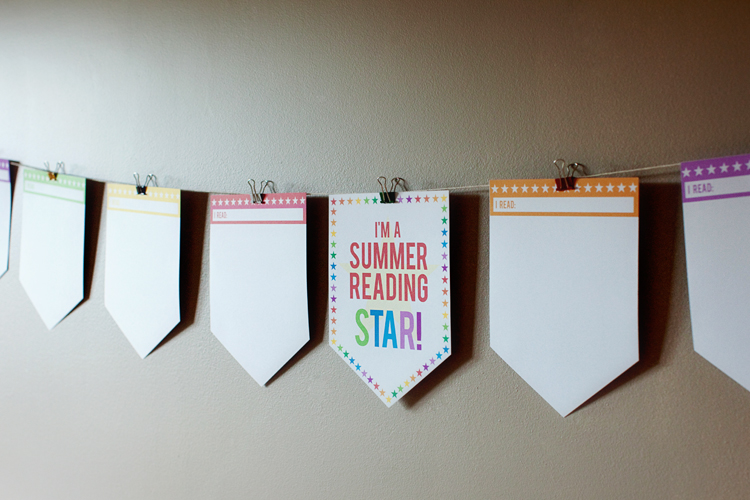 The kids were VERY excited about this and were eager to list ideas to include on the coupons including: family movie night, go bowling, a new book, a trip to the pool, a trip to Knoke's (a local ice cream parlor), stay up late, etc... Our "Golden Ticket" ideas included: a trip to the water park, an outdoor movie night with friends, a trip to the movie theater, etc...
Over the past few months I've been making lists of books I thought the kids would enjoy and tried to build a fun collection of "summer reads" to have on hand. I thought I'd share some of our selections in case anyone out there is looking for ideas.
Below are the books in my soon-to-be 4th graders summer reading basket: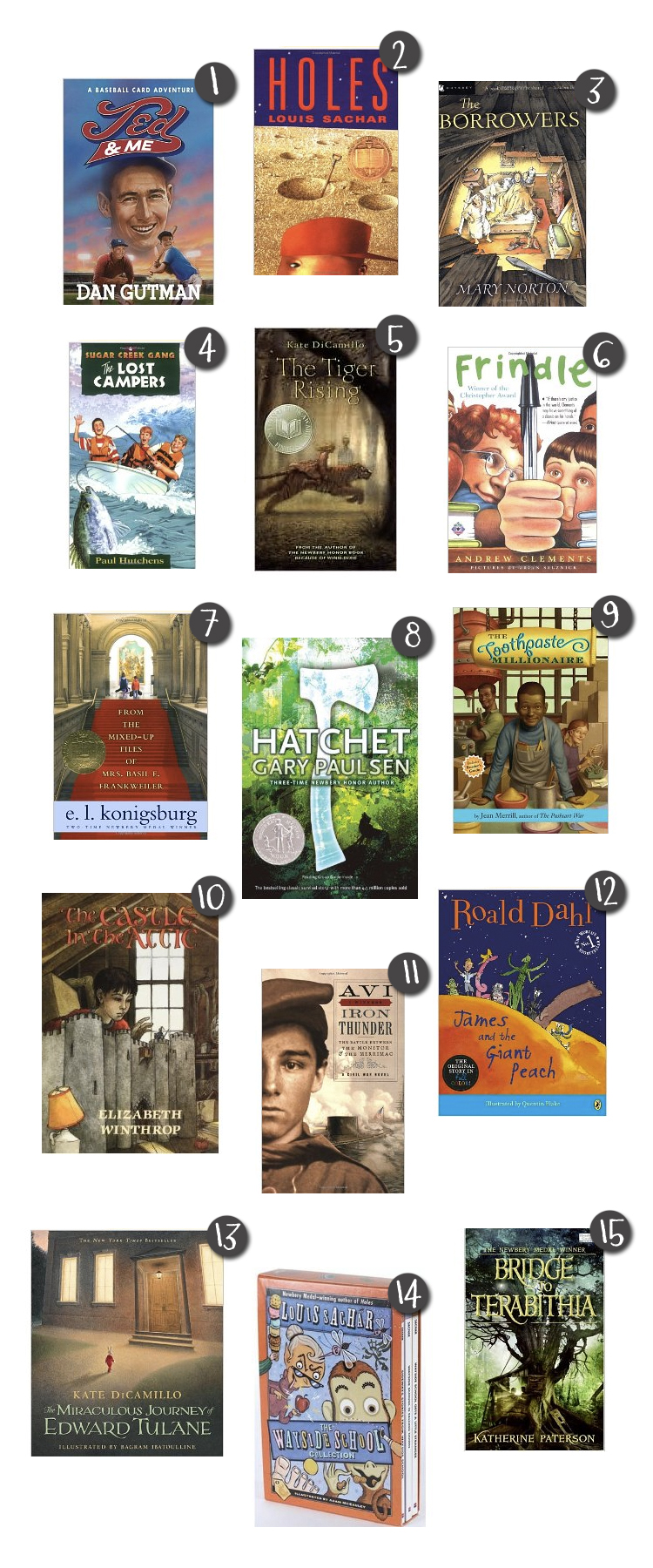 1.Ted & Me 2.Holes 3.The Borrowers4.The Lost Campers 5.The Tiger Rising 6.Frindle 7.From the Mixed-up Files of Mrs. Basil E. Frankweiler 8.Hatchet 9.The Toothpaste Millionaire 10.The Castle in the Attic 11.Iron Thunder 12.James and the Giant Peach 13.The Miraculous Journey of Edward Tulane 14.The Wayside School Series 15.Bridge to Terabithia
And here are the books in my soon-to-be 1st graders summer reading basket: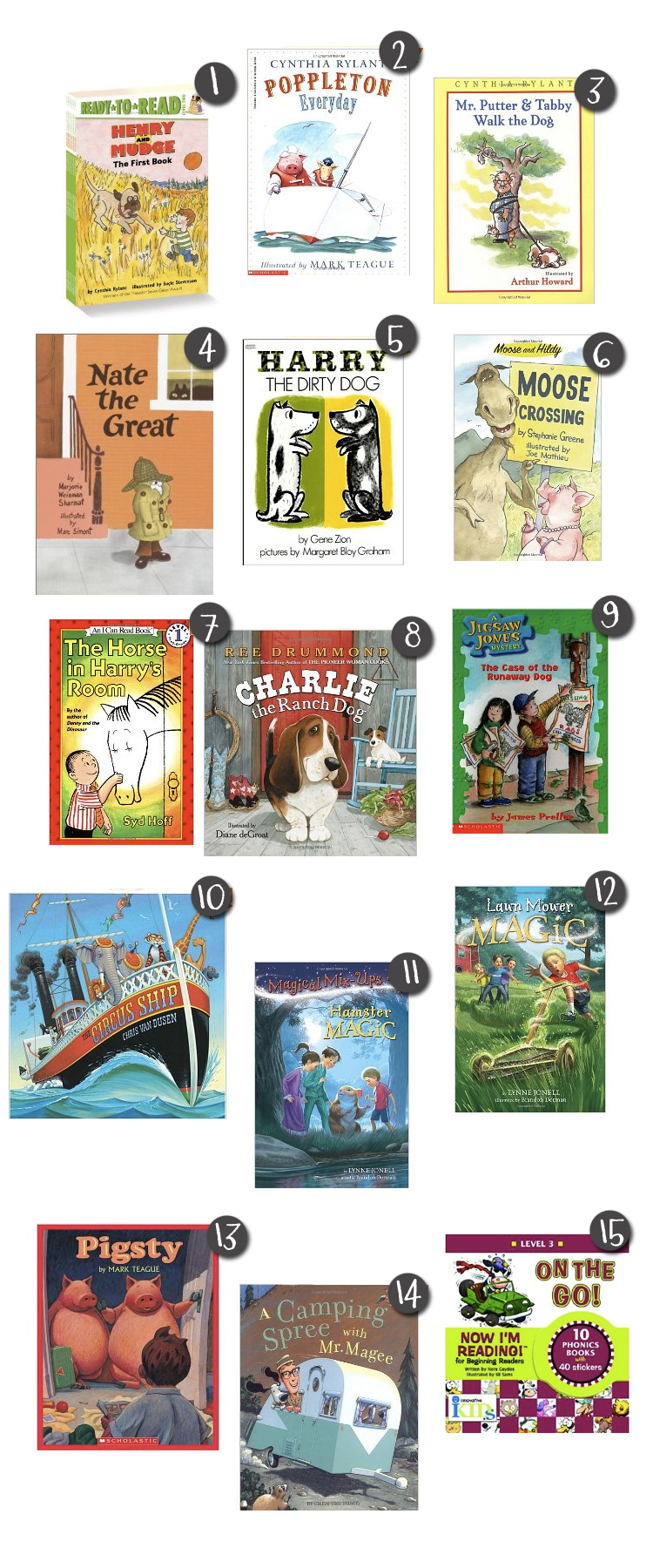 1.Henry and Mudge 2.Poppleton 3.Mr. Putter and Tabby4.Nate the Great 5.Harry the Dirty Dog 6.Moose Crossing7.The Horse in Harry's Room8.Charlie the Ranch Dog 9.Jigsaw Jones 10.Circus Ship 11.Hamster Magic 12.Lawn Mower Magic13. Pigsty 14.Camping Spree with Mr. Magee 15.Now I'm Reading
Just a note about the "Now I'm Reading Books" in my 1st graders basket. I can't recommend these boxed sets enough to parents with emerging readers. There is so much to love about these books! The colorful and fun illustrations combined with simple, yet effective sentence structures make these a great options for helping kids build their confidence with reading. There are stickers included in the "parent guide book" so after your child reads through each book he/she earns a sticker to put on the front cover of the book. We have used Levels 1-4 with both of our boys and have been very happy with them!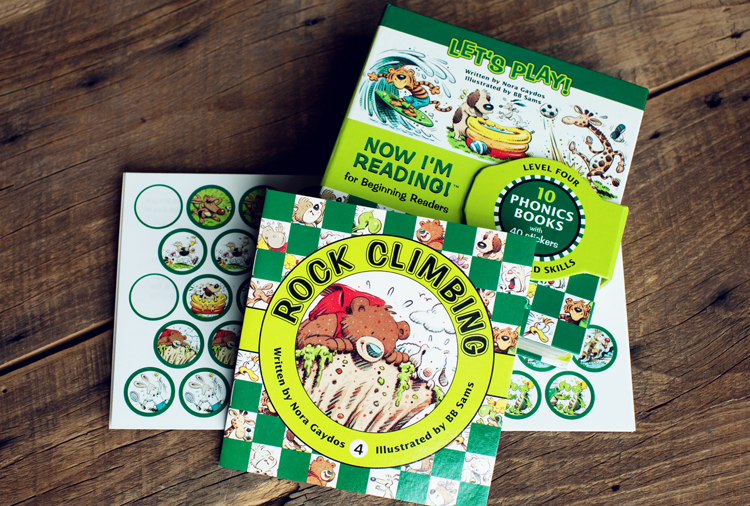 Today's "Summer Reading Star" themed lunch includes: peanut butter sandwich (you could use sunbutter if peanut allergies are a concern), white American cheese, strawberries/blueberries, broccoli/carrots, peanut butter muffin, cucumbers, and strawberry "milk" (recipe below) all packed in a Planet Box Lunch Box (even though the kids are eating at home today it's still fun to use their school lunch containers every now and again).
Strawberry Milk:


1 cup unsweetened vanilla almond milk


1 scoop strawberry flavored Jay Robb Whey Protein powder (if egg allergies are a concern consider pea protein powder)


drop of natural food dye (I don't recommend artificial food coloring)


4 ice cubes


Combine all ingredients in blender (I use a
BlendTec
) and blend until smooth.