Wild Night
Last night was a WILD night to say the very least as our oldest son got to serve as the Flag Bearer at the NHL Wild vs. Tampa Bay Lightning game. It was a dream come true for him and I imagine it would be for most hockey loving kids, but it really was something bigger for our son and here's why. You see, when our son was just a few months old we started to notice that he was incredibly sensitive to noise. The start of our dryer, a motorcycle driving by outside, the vacuum cleaner, hair dryers...these are all things that typically sent him into an inconsolable crying fit. Many people said we were just too quiet around him and we needed to get him used to noise. My maternal instincts told me it was more than that.
Over the years we tried taking him to parades, noisy arenas, loud public places and while he could tolerate it for a while he usually broke down and we'd leave earlier than expected because he would get completely out of sorts. Luckily we have a wonderful pediatrician who heard our concerns and explained that he had something referred to as sensory processing disorder. She was confident that he would eventually grow out of it, but in the meantime she encouraged us to just keep exposing him to different environments knowing that it might take him longer to adjust than other kids.
We registered him for music classes, basketball, preschool and other activities. Slowly but surely we started to see a change in him. Just before Kindergarten he informed us that he wanted to play hockey. Now, unless you've parented a child with sensory issues there is really no way to explain how crazy that sounded. Playing hockey would mean getting into a lot of uncomfortable gear (helmet included) in a freezing cold rink that tends to be very loud at all times. However, he was determined to play, so we went ahead and signed up for the learn how to skate program. Both my husband and I were convinced that our son's hockey career would last one or two days at best!
He arrived at the rink for his first lesson with one of Hudson Hockey Association's finest...someone who stayed by his side the entire time and taught him first how to fall and then how to pick himself right back up again.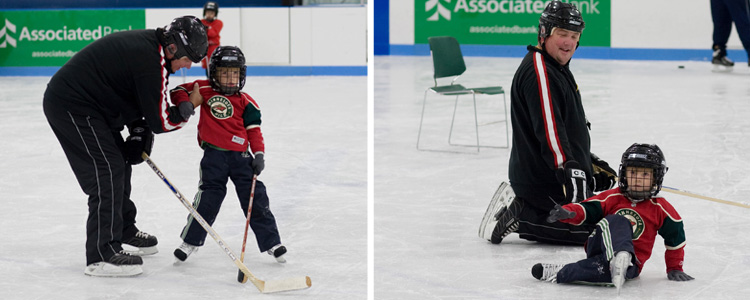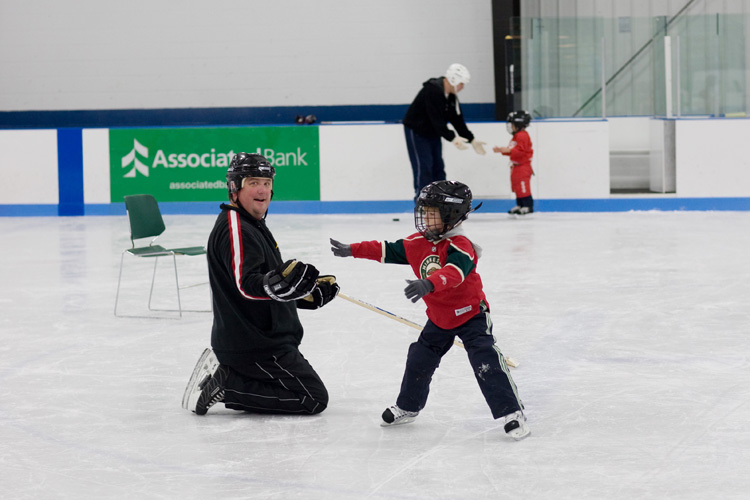 All the things we thought would be big issues for him with the cold, noise, gear, etc... turned out to be non-issues. He was so determined to learn how to skate that I don't think he had time to think about the things we thought might bother him. While we hadn't planned on signing him up for regular hockey season that's exactly what we did.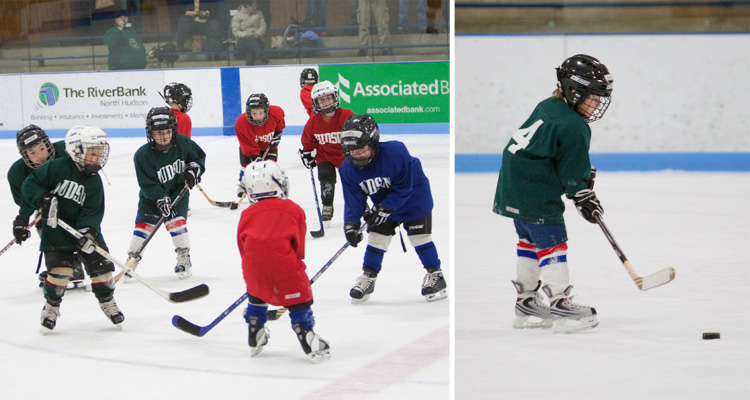 Throughout that time we saw his skating improve, but we also noticed that so many of the sensory issues we dealt with when he was younger were starting to dissipate. He was still pretty quiet and somewhat shy, but it seemed that he gained a little more confidence every time he stepped on the ice. And so we continued. One year led to the next...and he had one amazing coach after another.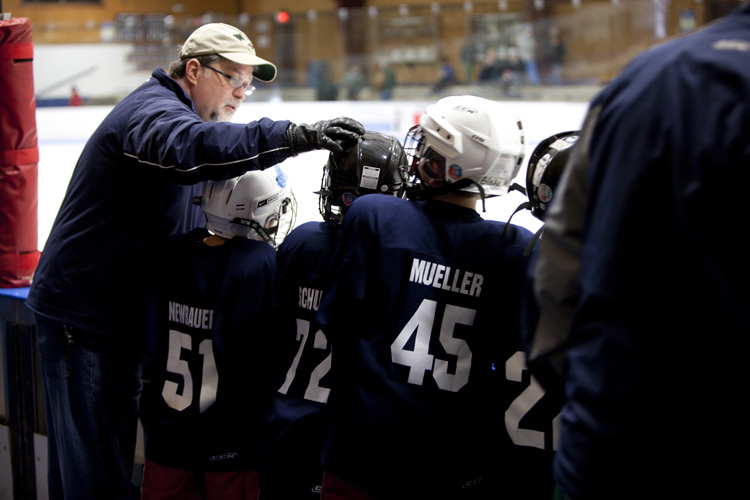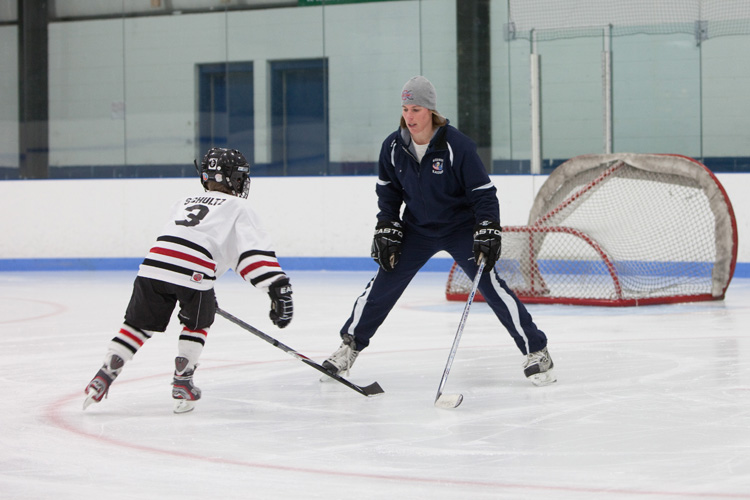 I think it's safe to say that both my husband and I were shocked to see just how much confidence he gained each and every year...especially when he was on the ice.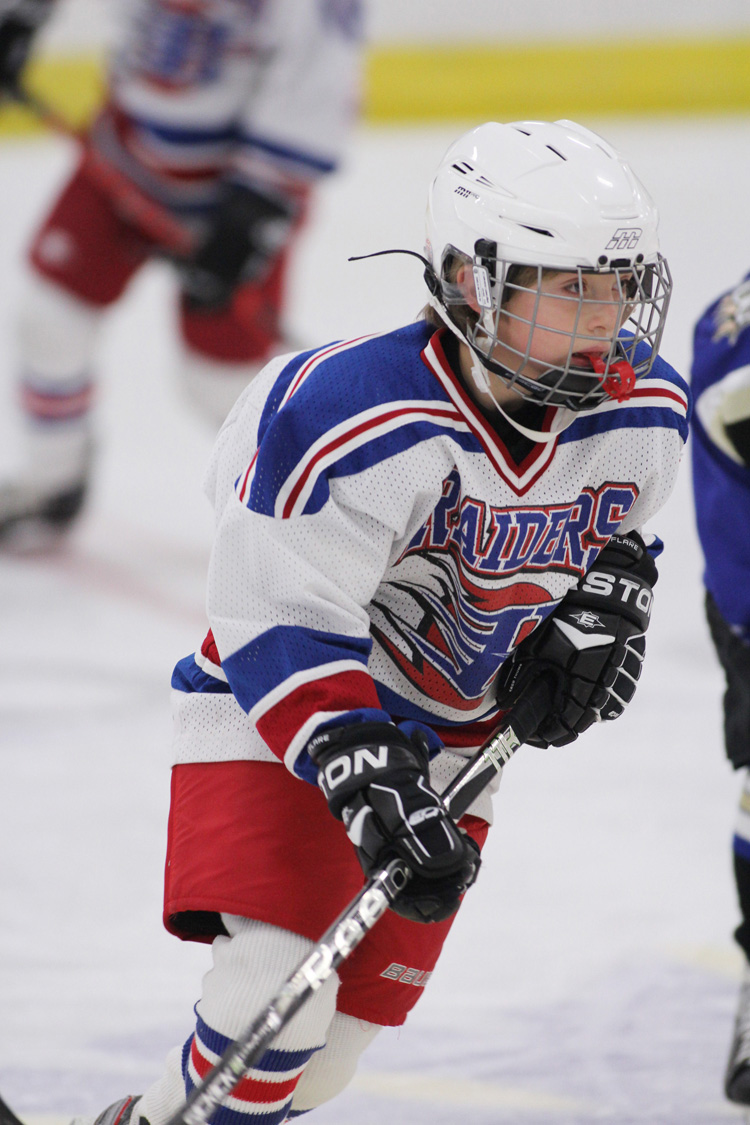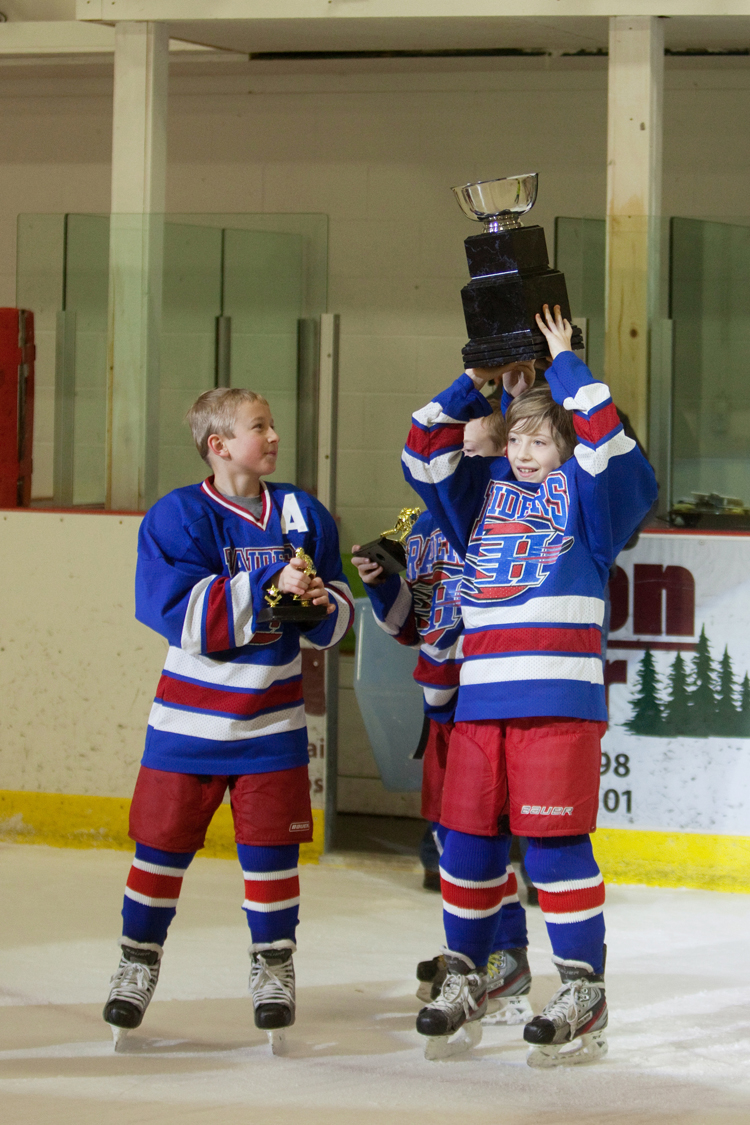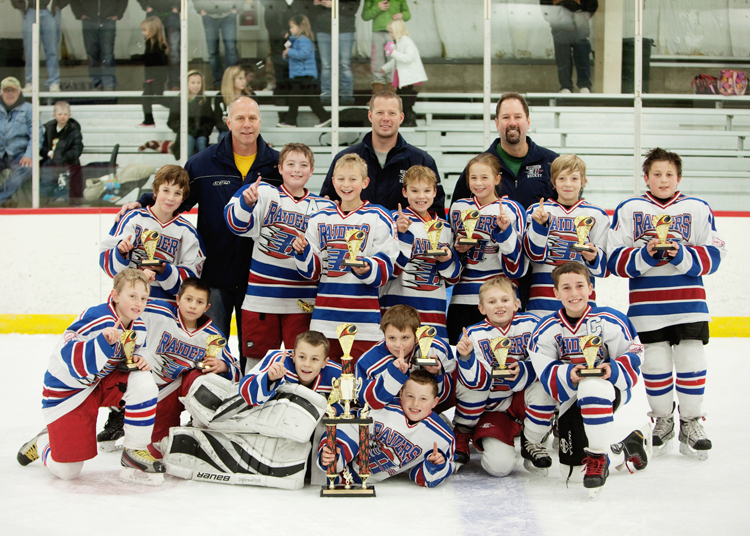 Eventually, we hardly saw any of the sensory traits he struggled with as a toddler. The little boy who once gave away his surprise birthday zamboni ride at a MN Wild game because he couldn't bear the thought of being in front of a large, noisy crowd was growing up before our very eyes.
So imagine our delight when he was presented with an opportunity to be the flag bearer at a MN Wild game just weeks before his 11th birthday. He didn't hesitate for a moment when we asked if he wanted to do it. To give you a better understanding...this is a kid who begged for an FM radio when he was 5 years old so he could listen to the Wild games in bed at night, and who could rattle off player stats at a moments notice, and whose birthday wish every year since he started playing hockey was to go to a Wild game. Needless to say, this was truly a dream come true!
And I have to tell you, it was a dream come true for me as well. Watching my son do something that would have been next to impossible for him just a few years ago is incredible. I'll admit that my heart was racing when I saw him approach the ice last night and the camera projecting him onto the jumbotron was a little more than I could bear. I worried that he'd get scared or change his mind or panic or throw up...all the things a mother would worry about I worried about.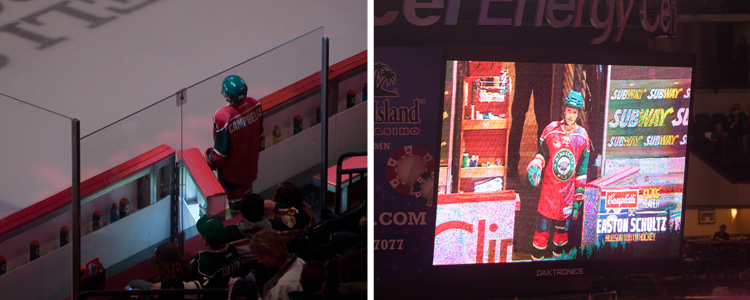 When he finally stepped onto the ice in the spotlight in front of 18,454 fans I realized we had reached a major milestone. It was a surreal moment and definitely something that was much bigger than simply being a flag bearer. What the sport of hockey has done for my child is really indescribable and for that I'll be forever grateful.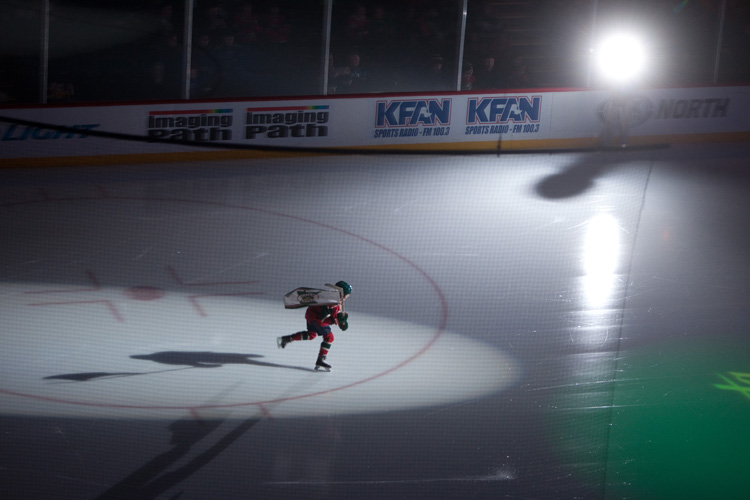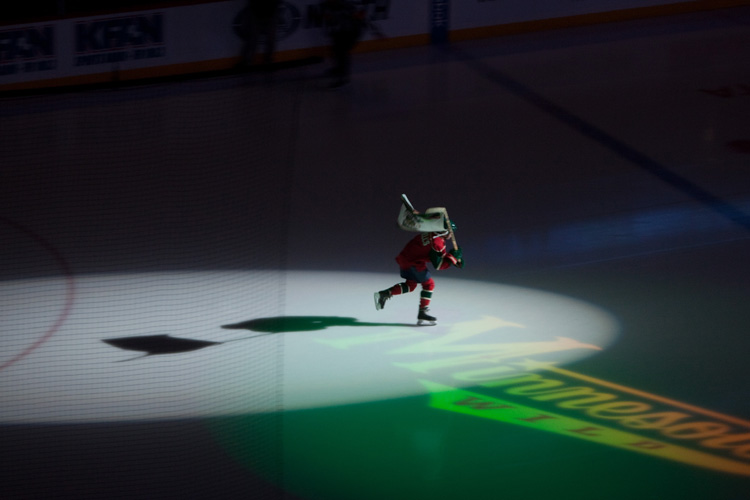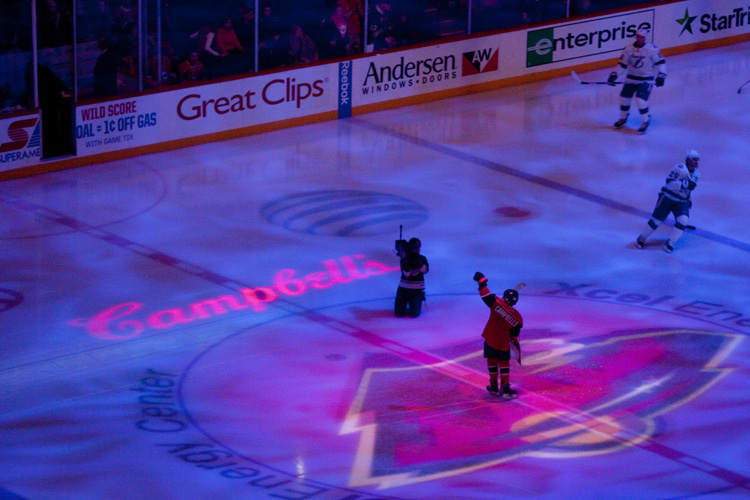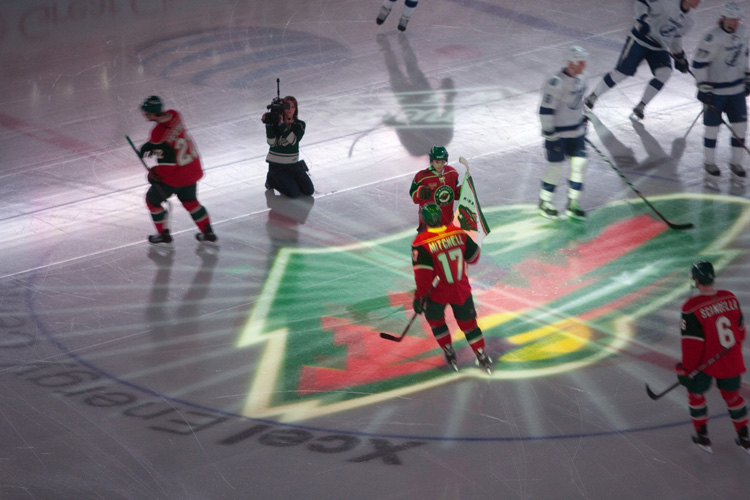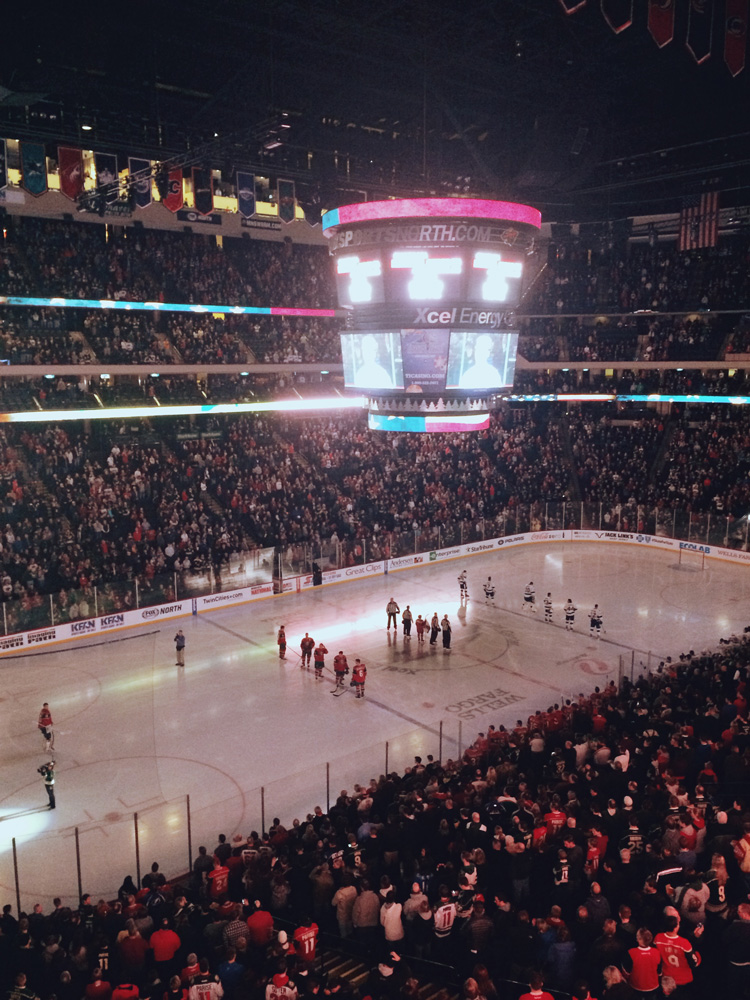 A Wild Flag lunch only seemed fitting for the day after such a spectacular event. The lunch includes: ham/cheese sandwich, strawberries, Quest protein bar, salad with parmesan cheese and sunflower seeds, dark chocolate all packed in a PLANET LUNCH BOX.