What a Hoot...
Last Saturday I was responsible for baking some goodies for the cake walk at the school carnival. I found some owl themed cupcakes in one of my cooking magazines and thought the kids might enjoy them. On the morning of the carnival I snapped a photo of my owl friends before they were packaged up and again after. I had to laugh because I thought my little friends looked much more relaxed and at ease before they were placed in their boxes.
The boys loved the owl treats and played the cake walk several times at the carnival with the hopes of winning so they could bring them back home. Neither boy had any luck at the game, but luckily I made two extras and had them waiting for them when we returned. Disclaimer...there wasn't anything healthy about these cupcakes but the boys sure enjoyed eating them.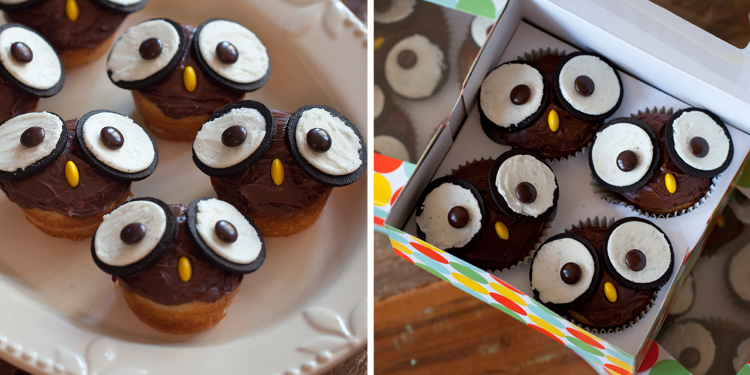 I thought I'd surprise my son by putting another owl friend in his lunch box. This time I "healthified" it a bit by making an owl sandwich out of a Joseph's pita pocket instead of a cupcake.
Today's lunch includes: turkey, cheese & lettuce pita "owl" with provolone cheese and summer sausage for eyes, snap peas, orange and plum slices, almond flour spice cake